Online Pet Products: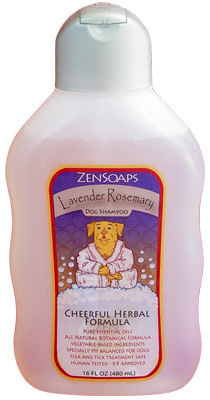 Lavender Rosemary Dog Shampoo
- Cheerful Herbal Formula
Our classic handmade shampoo, made with the finest Lavender and Rosemary Essential Oils for both scent and beneficial properties. Relaxing and soothing.

Sold in our large 16oz size as pictured

Cedarwood Orange Dog Shampoo
- Warm Comforting Formula
Natural blend of the finest Anise and Cedarwood essential oils, excellent for dry flaky older skin, with a delightfully warm scent.
Sold in our large 16oz size as pictured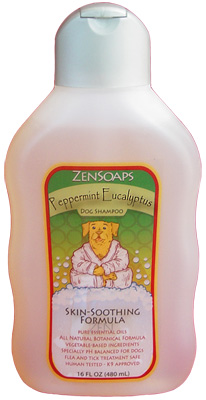 Peppermint Eucalyptus Dog Shampoo
- Cooling Skin Soothing Formula
Blend of the finest natural peppermint and lemon eucalyptus essential oils in our proprietary handmade shampoo formula. This has a very mild cooling skin effect that helps relieve itching and allergic skin.
Sold in our large 16oz size as pictured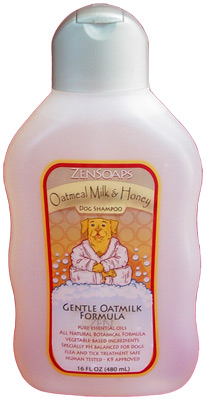 Oatmeal Milk and Honey Dog Shampoo
- Our delightfully fragrant formula.
This is our only shampoo that contains a bit of fragrance oil to enhance scent. It is made in our proprietary handmade formula, with no essential oils. The smell is our custom blend of the most mouth-watering versions of oatmeal milk and honey. It's lovely!
Sold in our large 16oz size as pictured
ZenSoaps Stink Neutralizer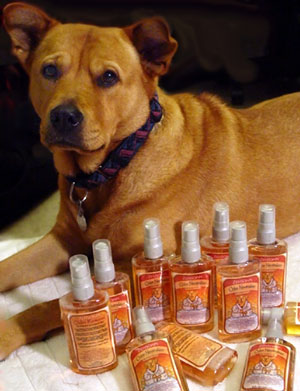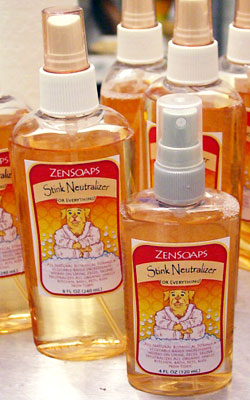 Accidents happen. So we spent over a year formulating a solution that works, because we needed one ourselves.
This will not only remove organic smells from pets, but from people too.
It's a great all around odor elimination solution for everything from doggie accidents to fish and garlic on hands, to child bedwetting spots to skunk spray. It is all natural, non-chemical, non-toxic, and effective on ORGANIC smells. It doesn't mask smells, it eliminates them.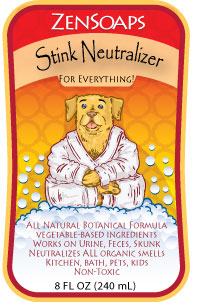 Just a nice little product to have on hand for those once in a while stink removal needs in your kitchen, garage, bathroom, boat!
Large 8oz Size
Small 4oz Size
Payment
We only accept Paypal for payment. We need never see your personal information, while you have the protection of Paypal's Buyer Guarantee that you will both receive your product and it will be as described.
When checking out, always verify that the browser address at the top of your completed cart begins with a secured https://www.paypal.com address before submitting your order.
We ship via Paypal's shipping module, and Paypal also accepts credit cards if you do not have an account with them.
We do it this way because we want you to feel safe with your order, and we are confident that you will be happy with our Products! Enjoy!!
Shipping Charges
We Ship USPS Priority Mail:
* 1 bottle ships for $5.95 (fits into a Small Flat Rate Box),
* 2-4 bottles ship for $8.95.
* All orders of more than 4 bottles are shipped Priority Flat Rate $11.45 no matter how many more you order.
I'm sorry, we do not accept International Orders at this time.
Other Outlets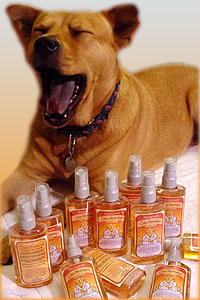 ______________________
Carribean-Sol Online Shop